Vancouver's Choice for Contemporary Planters
At Atlas Pots we specialize in creating your ideal setting when talking about planters for your home, commercial space or cabin. We welcome you to our Vancouver location where you can easily check our great selection of planters and let us help you with the choices according to the space you have.
Containers can be great focal points in a garden or as accents pieces flanking doorways. They can also create beautiful, personal spaces on patios, with flowers, plants or herbs. Using a container does not, however, have to limit what you are planting. You can grow almost anything in a container. Find out about the best soil mixture for your plant, consider sun exposure, and think about the look you want to create. When looking at great containers in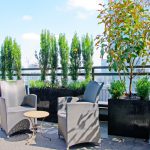 Trees like Japanese Maples (various types), California Lilacs, Japanese Willow, and dwarf fruit trees, Azalea, and Rhododendrons.
Plants like grasses, bamboos, shrubs such as Yews and Viburnums, topiaries.
Flowers like annuals and perennials including vines, clematis, and camellias. You can also consider native flowers as well as edible flowers.
Edibles like strawberries, spinach, lettuce, zucchini, squash, green beans, peppers, tomatoes, garlic, onions, carrots, peas, and more.
Herbs like cilantro, parsley, basil, mint, rosemary, lavender, dill, oregano, and more.
Containers for children's gardening can be a great way to teach the wonders of nature and growth while allowing your children to grow things on their very own. Also, using containers as decorative pieces filled with cuttings can be a great way to dress up an entrance way, a table or even a front porch throughout the year.